A rewarding project with the students of P.S. 58, Brooklyn, N.Y. and Pixton Comics
We'd like to share a special recent project. Mr. Lupkin, a 5th grade teacher, contacted us saying that his students were using the online comic-making website Pixton Comics (pixton.com) to create their own comics. Pixton Comics website allows users to create comics strips, piecing together a comic book, with a user-friendly interface, with the option of downloading the completed comics in a PDF format. Litho Ninja is able to print the comic books from these PDFs from Pixton Comics.
No images found.
Litho Ninja worked one-on-one with Mr. Lupkin through the whole process who was a great pleasure working with but the real reward was when we saw the great photos of the happy children holding their final printed comic books. Thank you Mr. Lupkin for sharing those with us. He was kind enough to writeup his experience that we'd like to share with you:
My name is Dan Lupkin. I am a 5th grade teacher at P.S. 58 in Brooklyn, N.Y. My colleagues and I were doing a unit with our students on historical fiction, and I thought that the online comic-creation software we had been experimenting with would be a great way for my students to create their culminating project. My classroom contained a diverse array of learners, but one thing they had in common was that they all loved comics. I guessed, correctly, that the medium of the comic book would act as a motivating force, and would provide them with an opportunity to hone their storytelling skills in a more visual medium than the usual historical fiction story. Having to think about the clothing their characters were wearing and the technology they were using deepened the experience, forcing them deeper into research of the time periods they had chosen as subject matter.
They took to the project immediately, and put their hearts and souls into their comics. When they were done, they relished reading and commenting on each other's work. They were proud, and they had earned that pride. As the year was ending, I was trying to think of a personal, fitting gift with which to send my students off to middle school, and the idea occurred to me that it might be possible to get a printing of their cherished historical fiction comics. After reviewing the requirements on the Litho Ninja site, it seemed doubtful that they would be able to do what I wanted: a single copy of 9 comics of very irregular length and layout. I emailed anyway, just to see. Brian went way out of his way, even going so far as to familiarize himself with the website we had been using in order to help me realize this ambition. The pictures you see are the result.
Today was the last full day of school, and I surprised them with their own handsome, professional looking copies of their comics. The wonder was evident in their eyes, as was the pride. Brian and Litho Ninja provided me, at a very reasonable price, with a gift my students will never want to part with.
I might very well be back for more next year around this time.
Dan LupkinTeacher,
P.S. 58, Brooklyn N.Y.
---
Pixton Comics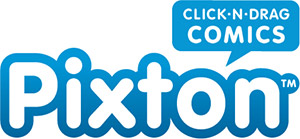 Pixton Comics is a user-friendly website that allows users to create comics even if you are not a comic artist.
View Pixton Comics Website Here
Pixton Comics Printing
The final comics can then be exported as PDFs. Litho Ninja can print these PDFs that are exported from Pixton Comics.
Related Posts
By accepting you will be accessing a service provided by a third-party external to https://lithoninja.com/