Let Litho Ninja Relieve Your Comic Con Stress!
Comic conventions for 2014 are starting and is an exciting time! As exciting Comic Cons can be, we know how stressful preparing for conventions can be as well. And the last thing you need to be stressing over is the printing of your comic books, posters, flyers, etc. We agree. That's where Litho Ninja comes in!

Comic artists in the industry have come to rely with confidence on Litho Ninja to handle all their printing needs stress-free as they spend their valuable time planning and preparing for the convention. Litho Ninja knows firsthand what all that entails and knows what it takes for a successful comic convention experience.

Litho Ninja relieves the stress of meeting the comic convention date deadlines, the quality of the printing, reliable responses, receiving print updates along the way, and so on. Place your order at http://www.lithoninja.com and Litho Ninja takes over from there with rapid customer service, fast top-quality comic book printing, and shipping right to your door. It's really that easy!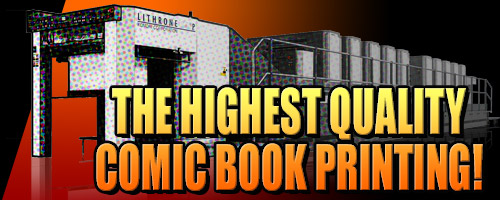 Litho Ninja is able to handle the comic convention printing demand. At the heart of Litho Ninja is one of the largest printing companies in Houston, Texas. Backed by the most highly sophisticated printing technology on the planet in a 30,000 square-foot printing facility, Litho Ninja can produce your comic printing at the highest quality, fast turnaround, at great prices.

When ordering comic book printing it's recommended to have one "hard proof" printed and mailed to you first for inspection and approval. Hard proofs are free at Litho Ninja when ordering 25 books or more. This will add a few days to your overall printing time so please plan accordingly and get your artwork to Litho Ninja in time to meet your deadline. Contact Litho Ninja with any concerns or questions.

Have questions? Need further info? Visit Litho Ninja at:
http://www.lithoninja.com

Ready to place your order? View Litho Ninja's print requests at:
http://www.lithoninja.com/requests.html

Need comic print templates? Download comic book print templates at:
http://www.lithoninja.com/resources/print-templates.html
View Upcoming Comic Con Dates Here

Join the Litho Ninja comic printing community today and let Litho Ninja relieve your stress!
Related Posts
By accepting you will be accessing a service provided by a third-party external to https://lithoninja.com/